Can dogs get sunburned? Yes, dogs are just as prone as humans to sunburn and related health conditions, like skin cancers. So before you head outside for an afternoon in the sun, make sure you're both protected. But that begs the question, can dogs wear human sunscreen?
You should always use sunscreen specially formulated for dogs. Common ingredients found in human sunscreens, such as zinc oxide or para-aminobenzoic acid (PABA), are highly toxic to dogs if ingested. And we all know how much dogs like to lick.
We've found some of the best dog sunscreen products and given you tips on how to apply them, so you're ready for fun in the sun. And, since May is Dog Cancer Awareness Month, now is the perfect time to prepare your dog for a healthy summer.
Dogs Most At Risk
Dogs that are most susceptible to sunburn are hairless breeds and those with white or light fur, thin fur, and pink and white skin. Some common breeds that have a higher risk of sunburn include: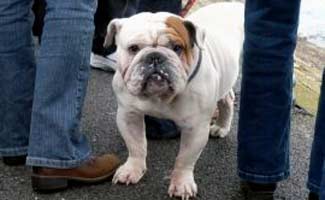 All dogs, regardless of their coat thickness, have vulnerable areas of the body with thin or no fur. And even dogs with darker pigmented skin can get a sunburn. So it's important to protect these areas with dog-safe sunscreen whenever they're out in the sun for long periods to prevent skin irritations or the development of skin cancer.
Best Dog Sunscreens
All of these sunscreens are made specifically for dogs, so they contain no zinc oxide or other toxic ingredients. They're safe and effective.
Winner: Epi-Pet Sun Protector Spray Review
View on Amazon
Epi-Pet's 30 SPF sunscreen spray is an excellent choice because it's safe for dogs (and horses). The aerosol spray is easy to apply anywhere on your dog's body. It's also the only pet sunscreen that's FDA-approved.
The non-greasy and non-oily solution dries quickly and even contains skin and coat conditioners. It's also water and sweat-resistant, so your dog can enjoy their favorite bodies of water and stay protected. Note: The manufacturer warns against using this on cats.
Price
Runner-Up: Emmy's Best Dog Sun Skin Protector Review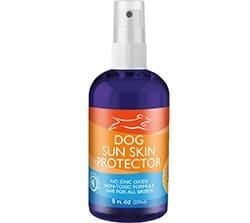 View on Chewy
If you don't like aerosol sprays, you may prefer Emmy's Best sunscreen spray. The non-greasy formula doesn't form a film on your pup's coat that attracts dirt and debris. It also contains shea butter and coconut oil to nourish your pup's coat and skin.
Although it's not FDA approved (therefore, it doesn't have an official SPF rating), the manufacturers say it's equivalent to SPF 30. And many pleased customers say it works well to protect their dogs from sun damage.
Price
Third Place: My Dog Nose It! Review
View on Amazon
My Dog Nose It! Moisturizing Sun Protection Balm is another highly-rated sunscreen among dog owners. While this balm is primarily meant to protect your dog's nose from the sun, you can also use it on other areas of their face and body. It dries quickly and is water-resistant. 
This balm, which contains carnauba wax, coconut oil, and other all-natural moisturizers, is also a great solution for healing dry and cracked noses and paws and dogs who suffer from hyperkeratosis. Users say it's highly effective in preventing sunburn and does an excellent job as a healing balm.
Price
Our Personal Experience
Our dog Barley's nose is mostly bald, and thus, it often gets sunburned when he is outside without protection. He hates anything in a spray bottle, so we had to find an alternative type of dog sunscreen. We started applying the My Dog Nose It! product on his nose whenever he spends much time outside, and now he has a healthy, not-red nose. Since the product dries quickly and moisturizes the area while also protecting him from sunburn, it has been the perfect solution for our very active pup!

– Michelle S., Canine Journal
Other Summer Gear To Protect Your Dog
In addition to dog sunscreen, there are several other products you can use to protect your pup from the harsh summer sun and heat.
Sun Shirts & Hats
Protective clothing is a good alternative to slathering sunscreen all over your dog's body. A sun shirt, like PlayaPup's lightweight shirt, can provide stronger sun protection than sunscreen alone. And these shirts cover large areas of your dog's body.
You may also want to consider a dog sun hat to protect their faces. WINOMO's round brim pet cap is one of several great options. It has an adjustable strap to keep it on your dog's head and ear holes.
Goggles
Dog's eyes can suffer sun damage just like humans, so if you're going to be in the sun for a long time, you should consider a pair of dog goggles. Among the best on the market are Doggles — they have 100% UV protection, shatterproof lenses, and anti-fog treatment inside the lenses. They come in a range of sizes and feature an extra-wide nose bridge for a more accurate fit around your dog's eyes. See our reviews of Doggles and other top dog goggles and sunglasses.
Booties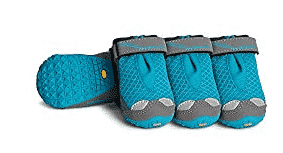 Your dog can scorch their pads on hot pavement, so you may want to invest in some protective dog booties, like Ruffwear's Grip Trex. Dog boots are also a great way to protect your dog's paws when hiking on rough terrain and when out in the cold, ice, and snow. See our reviews of Ruffwear and other top-rated dog boots.
6 Sunscreen & Sun Safety Tips
Here are some tips you should follow when using sunscreen on your dog and while out in the sun with your pup.
Dogs' noses, ears, and bellies are most susceptible to sunburn, so be sure to cover those areas (and other areas where the fur is thin).
Apply sunscreen at least 20 minutes before going out in the sun.
Reapply sunscreen every 4 to 6 hours or more frequently if your dog is playing in the water.
Make sure you keep your dog hydrated — dogs can get heat stroke just like humans. Pack a dog water bottle for drinking on the go.
Try to keep dogs out of direct sunlight during the hottest hours of summer.
Make sure there's shade around in case your dog starts to overheat.
Expert Vet Tips On Dogs & Sunscreen (Video)
Watch the brief video below to get some expert advice from a veterinarian on why sunscreen is so important for dogs.
How To Treat Sunburn On A Dog
Sunburn in dogs appears as red or flaking skin that can be warm to the touch. If your dog gets a sunburn, take him inside or put him in the shade as soon as possible. You can also use a cool compress or aloe vera on the area if he seems uncomfortable.
If the sunburn is severe or your dog appears distressed, you should call your veterinarian. A serious burn may require vet treatment with a cortisone product to prevent inflammation. Repeated overexposure could also lead to skin cancer, so prevention is key.
Taking Your Dog Hiking Or Camping?
If you're planning on taking your dog hiking, backpacking, or camping, dog sunscreen is one of many items you'll need. See our ultimate guide on hiking and camping with dogs for a packing list, tips, and specific products you may want to consider to make your adventure as dog-friendly as possible.
Tagged With: Preventative, Skin