Newer to the dog food industry is Jinx. This online-only dog food delivery is quickly winning over the tummies of pups thanks to their yummy, premium, all-natural kibble. Founded and developed by pet lovers for pet lovers, Jinx's philosophy is that the modern dog's lifestyle and habits have evolved. Thus, their diets and nutritional needs have too. Learn more about this fresh kibble option and if it's the right fit for your pup.
Visit Jinx's Website
Jinx Overall Rating
4.55/5.00
Our team rates dog food based on several factors, including variety, nutritional value, pricing, customer support, and more.
Pros & Cons Comparison Table
| Pros | Cons |
| --- | --- |
| Grain-free and grain inclusive options | On the pricier side compared to traditional kibble |
| Excellent blend of healthy ingredients | Limited flavor options |
| 100% satisfaction guarantee | |
| Also offers treats, freeze-dried toppers, and dental chews | |
| Subscribe and save 5% (15% on your first 2 orders) | |
| Every purchase helps feed a shelter dog | |
| Free shipping over $30 | |
| Made in the USA | |
Key Features
Partners with animal scientists, formulators, nutritionists, regulatory specialists, and manufacturers to develop an impressive blend of ingredients
Made with real animal protein, functional superfoods, patented probiotics, and all-natural ingredients
No artificial fillers, soy, corn syrup, MSG, or animal by-products
All recipes meet the guidelines of the Association of American Feed Control Officials
Conducts regular audits to determine the nutritional value, production quality, traceability, and sustainability
Option of subscribing for recurring deliveries, which saves you 5%
100% money-back guarantee
Rewards and points program for future discounts
Support via live chat and email
Fast delivery to the continental United States (free shipping for orders over $30)
Recipes
Kibble Dog Food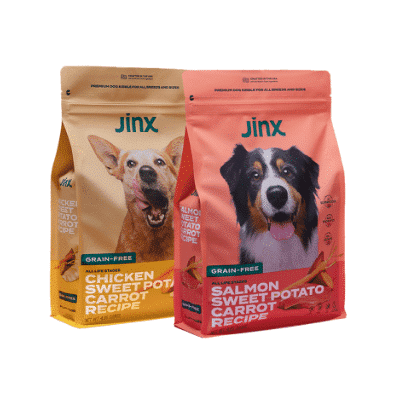 Their kibble includes:
Lean meat and plant-based proteins
Vegetables
Essential vitamins and minerals
Other all-natural superfoods
They currently have four recipes, including grain-free options for dogs with an intolerance to grains. All contain probiotics to help dogs maintain a healthy gut.
Salmon, Brown Rice & Sweet Potato – best-selling recipe promotes digestion and sustained energy, plus gut, eye, heart, skin, and coat health. Good for dogs with a sensitivity to chicken.
Organic Chicken, Brown Rice & Pumpkin – helps with energy, fiber, skin, coat, gut and heart health.
Grain-Free Salmon, Sweet Potato & Carrot – good for a healthy immune system, digestion, skin & coat health, and more.
Grain-Free Organic Chicken & Sweet Potato – good for digestion, muscle mass, metabolism, and eye and heart health.
Treats And Toppers
Jinx offers topper, dental sticks, and jerky treat options too.
Chicken & Sweet Potato Jerky – for eye health, lean and low fat, helps with muscle mass and metabolic performance, soft and chewy tenders.
Salmon & Pumpkin Jerky – contains Omega 3's for a healthy and shiny coat, and .nutrient-rich pumpkin, a natural source of antioxidants.
Freeze-Dried Salmon Topper – loaded with Omega-3s to support shiny coats & joint support and vitamin E.
Freeze-Dried Chicken Topper – fiber for digestive aid, vitamin C, amino acids to support lean muscles and tissue.
All Smiles Dental Chews – Dogs 10-25 or dogs 25-75 lbs – cleans teeth and freshes breaeth.
Pricing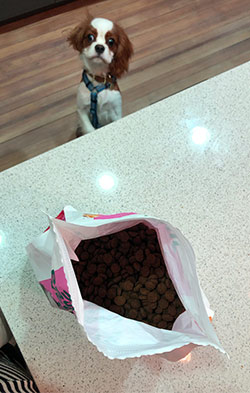 When Jinx first launched, they were a bit on the pricey end for kibble. But they've since significantly reduced their pricing, so it's more competitive. Plus, you can subscribe for auto-shipping and save 5%. 
Ultra Premium Kibble: Starts at $40 (for 11.5 lb bag)
All-Natural Dog Treats: Starts at $10 (for 1 bag – save on multiple packs)
All Smiles Dental Chews: Starts at $10 (for 8 chews)
Coupon
Our readers can get 10% off any one-time purchase (non-subscription) using the code CanineJournal10. Use this link to take advantage of this offer from Jinx.
1% of every purchase goes to shelter dogs in need (you can select which shelter at checkout.)
How Jinx Works
Their website is pretty straightforward. Select kibble (or treats) from the menu. Then, pick your subscription plan (options are every three to eight weeks). Check out, select the charity to donate to, and the food ships directly to you. (Note: the packaging in the images below have changed).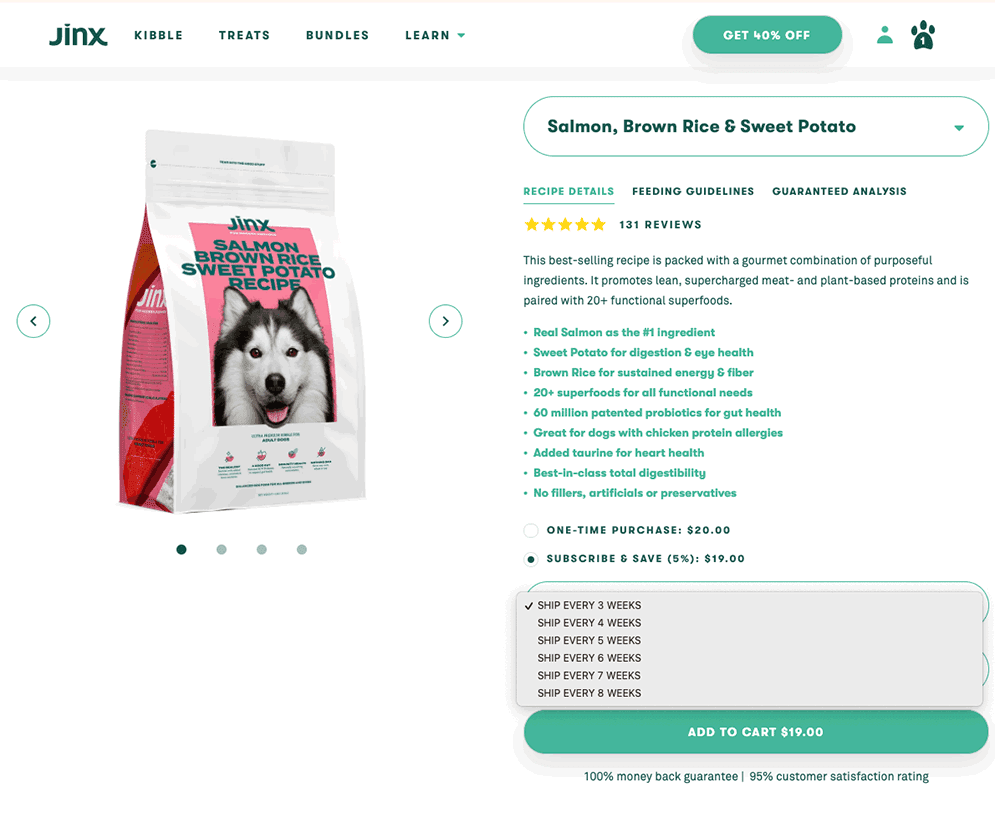 When the bag arrives, tear it open at the top and serve. There's a feeding guide on the back of the package, so you know what portion to give your dog based on her size. The bag is a ziplock to keep it air-tight and fresh.
What Do We Think Of Jinx?
Jinx hit the market in May 2020 and has yet to make a big enough splash for us to find customer reviews online. But two of our team members use Jinx. Here are their first-hand experiences: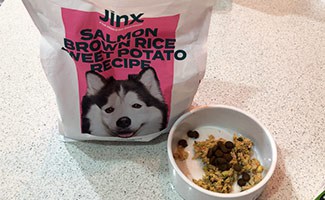 We have been giving our King Charles Cavalier Spaniel fresh food for years but recently started adding Jinx to the mix as a topper. Chewing the kibble helps keep the wet food from sticking to his teeth and gives some crunch to help slow him down from gobbling it too fast. I ordered a bag on Friday, and it shipped the same day and arrived within two days. We use the Salmon flavored recipe to add some grains to his diet, and he loves it! 

– Sadie C., Canine Journal
I typically feed my pup commercial kibble. Usually, when I put it in his bowl, he sniffs it and moves on until he gets super hungry. Let's just say his usual kibble isn't a big hit. But when I put Jinx's kibble in his bowl, he sniffed it for a good second and gobbled it up right away. He loved it! Kibble can be easier to give your dogs than fresh meals, but I always worried about the quality of his dried nuggets. But I felt more confident that my dog was getting a better meal with Jinx.

– Sally J., Canine Journal
Is Jinx Right For Your Dog?
Visit Jinx's Website
If you're looking for high-quality kibble that's more reasonably priced than fresh dog food, Jinx's recipes are an ideal choice for your dog's health. Although they're relatively new to the dog food scene, Jinx is worth considering as one of our top-ranked best dog food delivery services.
Learn more about Jinx in our interview with the CEO & Co-Founder, Terri Rockovich. Terri and her co-founders previously worked together at Casper mattresses. Find out how they leveraged their skills learned at a tech startup and applied it to the dog food industry.
Tagged With: Food Delivery, Review