Organic dog treats have higher nutritional value than most mass produced, store bought treats. In addition to being made from natural ingredients, using organic means there are no pesticides or fertilizers used to grow the produce, which makes the treats even safer and more nutritious for your pup. Organic can mean a higher expense, but you could whip up a batch of your own organic dog treats from your kitchen and save some money in the long run for the overall health and well-being of your pet.
What Are Organic Dog Treats?
Organic dog treats are made using certified organic ingredients. Organic ingredients are produced without using modern synthetics like pesticides and chemical fertilizers. Irradiation, chemical food additives and industrial solvents are also avoided. In the United States, organic gardening is strictly regulated, and food producers have to obtain special certifications to assert that their products are organic.
Organic foods in the U.S. are managed by the Organic Foods Production Act from 1990 and regulations outlined in Title 7, Part 205 of the Code of Federal Regulations. Organic foods in the U.S. must:
Contain a minimum of 95% organic ingredients
Not genetically modified
Livestock must be raised without growth hormones or the application of antibiotics and should have access to pastures regularly
Why You Should Consider Organic Dog Treats
Reduced Chemical Exposure – Products that use organic ingredients do not use ingredients that have been exposed to chemicals that can build up in your dog's system. No one can really know what long-term effects the chemicals used in pesticides and fertilizers can have on our pets but better safe than sorry.
Reduced Allergen Exposure – Many common allergens are left out of organic treats making them a good option for dogs that have various sensitivities. Common allergens that are left out of organic treats include corn, wheat and chicken.
Reduced Calorie Content – Companies that produce organic dog treats are often much more conscious of the overall impact of the product on the dog, and this includes calorie count. By focusing on organic ingredients such as fruits and vegetables, treats tend to have lower grain content, fewer additives and, consequently, lower calorie counts.
Easy Homemade Organic Dog Treat Recipes By Category
Be sure to pay attention to the ingredients you use. Always ensure the ingredients you purchase are certified as organic and that you avoid ingredients your dog shows sensitivities to.
You have the option to choose the size and shape of the treats. You can use traditional cookie cutters or other fun shapes like dogs or bones to create your dog treats. Or simply roll small balls of the "dough" by hand. If you prefer all the treats be the same size, try using a melon baller or ice cream scoop. You can also use a cup to create circle-shaped treats.
Baked Recipes | No Bake Recipes | Dehydrated Recipes
Easy Baked Dog Treat Recipe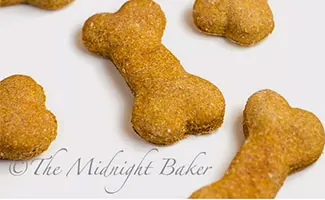 This recipe is super easy and only takes 30 minutes to make a batch.
Two Ingredient Baby Food Dog Treats
2, 4 oz jars of organic baby food (meat or vegetable, or a mix of both, like Earth's Best Organic Baby Food.)
2 cups of organic flower, spelt, wheat germ or rolled oats (or combination of all)
Yield: Approximately 15 medium-sized treats
Preheat oven to 350 degrees Fahrenheit. Mix the ingredients to form a dough in a mixing bowl. On a lightly floured countertop or surface, roll mixture into 1/4 inch thick dough and cut out into shapes. Line a baking sheet with parchment paper and bake for 20-25 minutes on until slightly golden brown. Turn off the oven and let the biscuits rest until oven is completely cool (to help dehydrate the treats).
Source: The Midnight Baker
Easy No Bake Dog Treat Recipes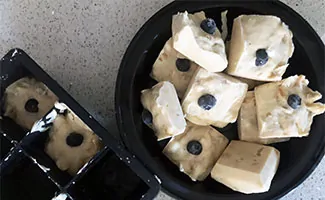 This recipe is also extremely easy and although it takes longer to freeze (vs bake) the preparation time is still relatively quick. We made these for a dog meet up and all the pups loved them (see photo). Pet parents should note though they are a bit messy for them to consume (especially in hot weather when they'll melt fast).
Peanut Butter And Yogurt Frozen Dog Treats
1 cup of your favorite organic peanut butter (Laura Scudder's Organic Peanut Butter)
32-ounce container of organic, unflavored yogurt (do not use sweetened yogurt)
1 large banana (sliced)
1 Tablespoon of honey (optional)
Yield: Approximately 1-2 dozen medium-sized treats
Put all ingredients in a blender or food processor (or use a mixing bowl) and stir until smooth and creamy consistency. Fill a silicone mold or ice cube tray with mixture. (We tried adding little blueberries into the tops of each cube for an extra special surprise for the pups). Freeze for for at least two hours until hard. Pop out of the molds and serve. Find more frozen dog treats.
Source: Cooking With Janica
Dehydrated Dog Treat Recipes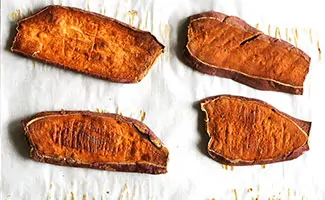 These super simple treats are a sweet and chewy way to reward your pup without the fear of calories or chemicals.
Sweet Potato Dog Chews
Yield: Approximately 5 cups
Preheat oven to 200 degrees Fahrenheit. Wash and trim the ends off each of the sweet potatoes. Slice into approximately 1/3 inch pieces length wise. You can also cut the potatoes into disc shapes. Arrange your chips on a baking sheet lined with parchment paper or use a dehydrator. Cook for 6 to 8 hours, flipping once halfway through. Once completely brown, turn off the oven and let the potatoes cool off which will help dehydrate them further.
Source: Platings and Pairings
Where To Buy Organic Dog Treats
There are many commercially available organic dog treat options produced by a variety of companies. Here is our top pick if you choose to buy instead of making your own.
Wet Noses All Natural Dog Treats
View on Amazon
Founded in 1998, Wet Noses Original Organic Treats are certified organic using non-GMO, human-grade ingredients, so you can trust they are healthy and yummy. They contain no grain, corn, wheat, soy or dairy, so they're ideal for pups with any types of allergies. They come with a 100% money-back guarantee, so you don't have to worry whether your dog will gobble them down or not. With a cookie-like texture, your pup might never know you didn't make them yourself.
Ingredients
They come in a variety of flavors including apple and carrots, grain-free berry, hemp seed and banana, sweet potato pie, and peanut butter and molasses. All ingredients are 100% sourced and made in the U.S. with no additives or preservatives.
Price
Some of our other favorites include:
Always Use Caution When Making Dog Treats At Home
Keep in mind the quality of your ingredients should always be organic and fresh to ensure the highest quality dog treats. Most importantly, when making your dog treats, be aware of which ingredients you should never use when baking for your dog. There are many "people foods" that can be harmful to dogs. Refresh yourself with what foods are toxic for dogs, so you are keeping your dog safe.
Tagged With: DIY, Recipes, Treats